March 13th, 2010
For those of you who are members of the now defunct Boundless Gallery, and if you are owed a refund for your membership service contract, I suggest you write Mr. Gregory at peterg@humidtown.com , but warning that by asking him for what is rightly yours, he may be abusive and condescending in his response as he was to me. I decided to write him after I saw an article on www.emptyeasel.com quoting him as "not being a fool to continue a failed business plan" and now was happily "seeking new horizons". As late as mid February, Boundless was still advertising to solicit members (the fools apparently) to upgrade their memberships......guessing that was the gravy needed to finance those "new horizons"? Less than two weeks later, Boundless folded giving members only 5 days notice!

Dear Mr. Gregory,

As a member of Boundless Gallery who experienced success as a seller making our relationship one of win-win, I am so disappointed in learning only 5 days before it happened that Boundless would fold and close its virtual doors.

I felt Boundless was the best bargain on the Internet and its customer service, namely Nolan Lipe the best of the best.
Nothing can come close to replacing either feature. I sure don't know all the facts other than the obvious one, but It's a shame someone did not approach the other part of the Boundless team --its membership---and level with us/request our help/additional fees, etc....what ever it would have taken to keep it afloat, but we weren't given that consideration.

Many of us had just renewed our membership and have paid for a year's service and there is no service now. I can find nothing you've sent out to members, much less how you intend to return the unused portion of our dues owed us. Please advise.

Best regards,
Susan Dehlinger
March 5th, 2010
I am saddened to learn Boundless Gallery is dis-banning. They have been a stand up, stand out, stand alone, heads above the crowd premier art gallery website; and as of March 1st, they will disappear from cyberspace. That will leave many thousands of us artists scattering to find replacements.

It is an arduous search thus far and frustrating to find all the other sites fall far short of Boundless Gallery's features, flexible membership plans....and most of all personalized customer service and support. Stay tuned for an announcement about the new home of Sunshine Gallery.


May 31st, 2009
Perhaps the silver lining in an economic downturn is the continued desire (and more available time) to paint just for the sheer love of painting. That in itself is inspirational and motivating to continue to put paint to canvas almost daily and just have fun. So what if sales and commission consults are down, I am finding creative blessings in the midst of a more deliberate and thoughtful economic perspective.

I have recently added several pieces to my online gallery that you can view at www.sunshine-gallery.com . I am currently close to completing a 20 x 24 canvas landscape/still life of a huge Geranium plant in a claypot atop a stone wall. Stay tuned. Deciding when it is finally done is the hard part!



March 1st, 2008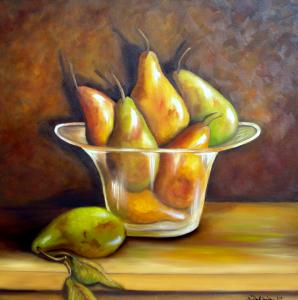 Not to be too braggadocios, but I proudly announce that many of my art pieces are now on display in a unique and eclectic gallery off Palm Valley Road. If you are local to the North Florida area, please contact me for directions and hours. Otherwise, please view my comprehensive inventory of work on my virtual gallery at www.sunshine-gallery.com .
March 1st, 2008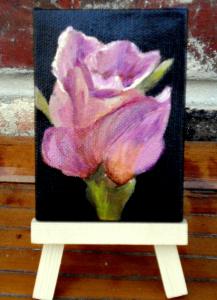 For 2008 thus far, I have focused on increasing my "kitchen art" inventory that had become quite depleted by sales in 2007 (yeah!); and I have added a whole new line of miniatures, most with their own little easel. Both collections make wonderful, affordable and unique house warming or hostess gifts. Please check them out on my website at www.sunshine-gallery.com .
January 12th, 2008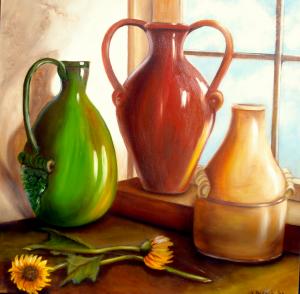 Approaching the New Year with Hope and a Clean Slate

I hope everyone enjoyed this holiday season and are looking forward to the promise of a new year with hope and the opportunity to start fresh with a clean slate.

Do you have any new years resolutions made yet? Are they realistic or idealistic? I know I usually start off with the best of intentions in making and keeping my resolutions; but pretty quickly they fall by the wayside of impossible to maintain. I've found in post new year's resolution autopsies that I over committed myself to idealistic change rather than taking a more kind to self approach with personally manageable and nurturing change.

Therefore, I intend to approach the new year a bit differently this year with resolutions that make me happy rather than make me thin or fit. I will not diet, but I will be "a bit more" conscientious in determining what I eat on a consistent basis. I will not go to the gym (unless I really want to with a friend), but I will find ways to stay fit while going about my daily life, even if means parking further away when running errands or taking the stairs when ever possible.
Most importantly though for my mental health and well being, I resolve this year of 2008 to do more of what nurtures my soul by finding more time to paint. Check out my online gallery website at www.sunshine-gallery.com to follow my resolution of creating more artwork in 2008!

May we all have the best of new years ever in 2008 as we find the time to do what nurtures our souls!

Artfully yours,
Susan